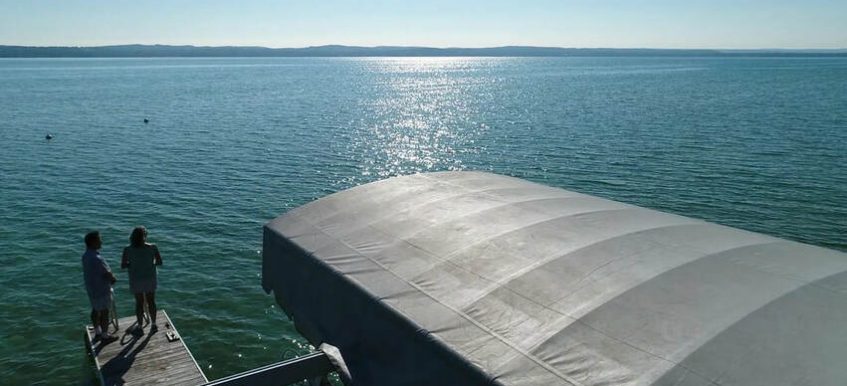 Hello! My name is Adam Phillip Begley, Inventor of the "Handicaptain" and I will forever remember when my folks first bought our Family Cottage on Torch Lake, Michigan. My dad could run down the dock with a bunch of gear in his arms, the keys in his teeth, jump in the boat, and drag my brothers and me out onto the lake to force us all to go water skiing, in the rain, and Enjoy It. Those were the days!
Over time though, like everyone does, he got older and eventually developed an "Elvis-Like" shake in his legs when attempting to step off the dock and onto the jostling boat waiting in the cradle of our Boat Hoist. His ability to balance got so bad that it made his getting on and off the boat more dangerous for his helpers than even himself! Finally, he just could not step the distance of one foot out from the dock, even when hanging on to the corner-post of his Boat Hoist so we reluctantly started leaving him on shore in a lawn chair to watch everyone else go boating on His boat and, on His lake.
I was determined to figure out a simple yet very sturdy and safe way to get him on and off of his boat, went to work on it and after years of research, development, trial without error, consulting and some help form professional engineers all ideas and concepts lead us to the best and most well known equipment available on the planet for moving people safely from any Point A to Any Point B and these are the very components we use to make up our "Handicaptain Systems."

In addition to helping people get on and off boats we are also Certified Installers and Licensed Dealers for In Home Ceiling Tracks as well as Chair Lifts that help people travel to and from various "Floor Levels" in their homes to many other Platform Lifts and In-Home Mobility Systems.
Handicaptain Prices vary but start around $7,000 installed at the 450 lbs. lifting capacity. It is a requirement for us to personally visit your property to measure up your your existing hoist equipment, canopy type and height to give you the most accurate quote on price so when you are ready, contact us for a free consultation.